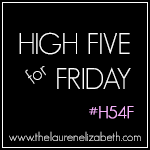 Happy Friday Lovies!! It's finally Friday, and wow I'm so ready for the weekend. Honestly, I've been a little stressed out about finding a venue, but this weekend I'm taking a chapter out of my own book and approaching the venue hunt with my usual attitude...hence, whatever attitude commence. With that said, I'm linking up with High Five for Friday, and #backthatazzup Friday to start my weekend off on a good note.
#H54F:
1. I have a winner of the CasstheCrafter Giveaway. Congrats to #350 Jessibeth Vicenty!
2. I have a new sponsor on DIY Bride. Her name is Ashly, and she has an amazing jewelry shop called Ash Ann Jewelry on Etsy. All her pieces are completely affordable, and beautiful. Since I'm a bride, I must mention that she fills orders for weddings, bridal showers, bachelorette parties, and other types of events. Pretty much every brides dream! Thank you Ashly for sponsoring DIY Bride!
3. I finally got to catch up with my bestie Lucy this Wednesday, which was much needed girl time! I'm super lame, because I completely forgot to take pictures! With all the girl talk that's been suppressed, I think we just went straight for the girl talk. Good news though, because I can tell you that we had our usual laughs, shared an app, pissed off the waitress (lol) and sat at the table longer than what anyone in Chill's would've expected (lol). You know ...good times, bestie edition!
4. There's a cool draft in Florida...WOW...right?! If your a Floridan you know what I'm talking about...lol I did document this lovely rainbow at UCF :) I hope the weather stays nice and cool, rather than extremely hot, or cold. Crossing my fingers now!
5. Well ladies, I am super excited because I hit 200 followers on Bloglovin' and 200 Likes on my Facebook page!! YAY! Now, I know that's not much to some of you veteran bloggers, but come on ladies...my blogs still growing and I'm enjoying every milestone me and my blog are going through together. Small dance party...woot woot! Dances of choice...the running man, and the dance I patent while I worked at Forever 21, 10 years ago...Yes I'll do it "the motorcycle" WHAAAT!
#backthatazzup (For you non-bloggers, that's not a misspelling, that's just the way the link party host spelled it)
I promised myself I would try to relax and calm down about finding a venue. Having said that, and how chill I'm feeling...I picked an appropriate song, for this Friday! :D
(Honestly I just discovered this song, and some of my friends have a nickname for me, because I'm always late when it comes to music or slang terms...basically whatever is considered trending. My nickname would be cave woman!) Come on guys, I'm busy...I have so much to do. I'm running a bloggy business, being a full time student, I have a man (which means I have a life...lol) I'm wedding planning, and the list goes on...ppsssssh "I'm sooo busy" lol They hate when I say that. So while I'll be motorcycling this song all the way til midnight, hope you join in and enjoy the tune!
Happy Friday everyone!
//MEET THIS MONTHS SPONSORED IN POST SHOP SPOTLIGHT//