I'm linking up with High Five for Friday again to highlight my week for you!

ONE This is UCF's Homecoming week, and I didn't participate once...lol I thought about going to the game but then I snapped out of it because I remembered how many drunken teenagers would be roaming the stands and streets. I wish we could tailgate with style and class, but that's really asking too much for these kids that just left their mommies and daddies nest...lol
I will be tailgating it up at home, while I watch the game though.
TWO Last week on Halloween I had to take a test...BLAH, and truly a bummer! I skipped the whole Halloween experience! The professor did give us the option to take the test, 2 days before Halloween, and have Halloween off. I decided to go with option take the test on Halloween, because I didn't feel I was completely ready to take the test 2 days earlier. My other classmates obliviously couldn't care less about their grade so they opted to take the test 2 days earlier just so they could enjoy the festivities on Halloween. They were trying to persuade me to take the test on the same day as them but I care too much about my grade to fall into that trap. I'm a leader not a follower! I enjoyed my 2 extra days to study and by the time the test day came around, I was ready! I Rocky Balboa'ed it!!! WHAT!

We got our test grades back Tuesday, and as the Professor was calling our names to pick up our tests my heart was pounding hard, because this test was hard and quite challenging for me! Explaining how to teach certain parts of the curriculum with every little detail is tedious for sure! Blah.
So I'll set the scene up for you. Everyone crowds the teacher as she calls name after name. Students pick up their tests, and their faces fall as they pass me. My heart pounds harder as I see the "smarter" students leaving with upset faces. I put my head in my hands because the anticipation and anxiety is horrendous! In this moment, I'm thinking that no matter how hard I studied, this test was the hardest test of the semester. Everyone was having a hard time with it. I studied but I knew points were going to be taken off my test for small mistakes. Even the smallest mistakes will start to add up, so I'm expecting a horrible grade. I aced my first one, so I'm basically ready to endure the bad grade. (Good grades are A's and B's too me, C is ok, but not that great, but I'm still happy with it.)
My name gets called and I slowly walk up to my professor. She gives me a smile, because she knew I was literally one of the last to leave the classroom the day of the test, and see's my face.(2 people were left after I left.) I'm sure she knows at this point that I'm dreading to see my test score. As she hands me my test and shows me my score my eyes light up and I can't believe it! I got a high B!! I got a B!!! I know a B isn't as great as an A, but when your expecting a D or F a B is like that heavenly feeling! BYAAAAA!!
THREE So I was walking back from the student union to the Teacher Academy building when I passed by the bookstore at UCF and saw in big, bold red letters 50% off! The sign intrigued me so I went in, since I had enough time to make it to my next class on time. They had shelves of UCF apparel on sale, for half off the already marked down price. It got so crazy in there, and I couldn't find a single thing in my size :( I kept looking around and found a cute infinity scarf :) Paid $10.00 and that's pretty much a highlight. Since the last football game of the season is coming up this month and it's "blackout" (which for BLACK and GOLD UCF means, everyone at the game has to be dressed in all Black and Gold UCF apparel!) I checked out some shirts, and found me a cute black and gold tank top! They have the cutest clothes, compared to online, Target or Walmart! I've found some at Victoria Secrets PINK but lately I haven't found any? What's up with that? Did VS PINK get rid of UCF off their collegiate collection? I loved the apparel but it was kind of expensive.
FOUR
This Monday, I had to go get my fingerprint update for Orange county. We have to do it whenever they ask, so I had to go ahead and pay for it (blah!) and use my own time to do it...lol A good plus was that the finger print place was super fast and the Fairwinds Credit Union was right next door. I recently read on their website that they have partnered up with UCF. If your a UCF student your checking is FREE!!
Not only is it free, (right now I have chase and it's far from being free) but you get a BLACK and GOLD debit card for free as well!!!! You get to choose from 2 styles! Super excited to get my card, and show it off! So basically this is awesome because they will link your KnightsCash with this card! Totally amazing!
FIVE Off the UCF talk and onto wedding talk...I found a few Ceremony venues to tour, and hopefully this weekend I'll be able to tour 1 or 2 of them. Hopefully they will work with my budget and something good will come out of this. The faster I find a Ceremony Venue the less of a headache and Pain I will feel later. It's truly been a headache so I'm looking forward to touring and picking a place. So the real fun can begin...lol JOY!
That's it for this weeks #H54F. I've been taking a break from giveaways and link parties for the past 2 weeks! It feels great to get back to content, but a new GIVEAWAY will commence Monday! Keep a look out for it :)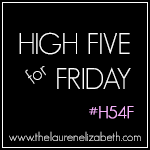 Now it's time for a little dance party for Friday!! (That's Jess from New Girl, but since we have so much in common, it's only appropriate she make a dance appearance on my blog.) Hope you enjoy the song...Holygrail, and I hope to hear from my readers :)
//MEET THIS MONTHS SPONSORED IN POST SHOP SPOTLIGHT//